Our Story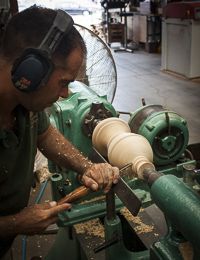 Lui Greco is the designer and furniture maker of Lui's Woodworks. We are a bespoke furniture business who make solid timber furniture. You can use our designs and change them to suit your needs, all with the knowledge that you will receive a quality product. Lui has been working with timber for over 25 years. He has a passion for beautiful products which showcase timber in its natural state. He started from a small shed in his backyard and moved into his own workshop in 1993. His workshop occupies 300 sq meters in Stafford, Brisbane and he also has a showroom in Byron Bay.
Lui's extensive experience in wood turning and manufacturing allows him to create special one off pieces and also a large number of turned products, for example balustrades to bollards. Lui has the machinery and expertise to turn timber on a grand scale of up to 4.3 meters long.
Joining Lui is a handpicked team of high quality craftsman whom have many years' experience in their chosen field. The professional team at Lui's Woodworks all share a genuine love of timber and combine their years of experience to make beautiful pieces.